Checking out the dam
May 10, 2012
The US Army Corps of Engineers has been
checking out the Gavins Point dam
on the Missouri River
near Yankton, South Dakota
-- just a bit upstream of Sioux City, Iowa. Their inspections revealed the need for
some repairs this summer
. While we aren't directly involved with the Gavins Point project (it was
constructed in the 1950s
), we've been extensively involved with levee-repair projects downstream on both the Iowa and Nebraska sides of the river.
Related items:
radial gates
•
sluice gates
Maintenance on the Gorman-Rupp Super T Series
May 14, 2012
Gorman-Rupp has shared a series of videos (about 20 minutes in all) describing and showing operations and maintenance tips and guidelines for the Super T Series of trash pumps. With hundreds of these pumps in operation across Iowa and Nebraska, we are pleased to share these videos with you:
Please feel free to
contact us
with your questions about Gorman-Rupp self-priming pumps.
Planning ahead for algae control in ponds and lakes
May 15, 2012
It's still quite early in the warm season in our part of the country, but it won't be long before summer is fully underway. A major summertime nuisance in many ponds and lakes is the growth and spread of unwanted algae, especially in urban areas where
runoff from fertilized lawns carries lots of nutrients
along with it into the water, where it feeds the growth and spread of algae -- especially when
combined with a dose of warm, sunny weather
. Treating ponds with chemicals to kill algae can be an
expensive and time-consuming process
.
We offer an alternative option: Pond aerators and fountains, which can be used not only to provide a combination of air and agitation (which help to inhibit the growth of algae), but that can also be combined with a simple lighting system to provide an attractive landscaping feature. Please feel free to
contact us
with your questions.
Bigger storms are happening more often
May 21, 2012
A pair of environmental groups has put out a
report
saying that
severe downpours are happening more often
in Iowa and around the Midwest than they did 50 years ago. The organizations involved aren't neutral on their conclusions -- they specifically advocate about environmental issues, and specifically
tie "extreme weather" to climate change
. But a
Federal report from half a century ago
illustrating rainfall frequency maps shows most of Iowa and Nebraska under a contour that would make a one-hour, 3" or 4" downpour a once-in-a-century event, and that any storm dropping 5" to 7" in 24 hours would have qualified as a once-in-a-century event as well. But we know from our own local experience that
Dubuque had a 15" downpour in 18 hours
last July, central Nebraska had a
one-day storm with 8" to 11" of rain in 2005
, and
2.5" and 3" one-hour downpours
aren't uncommon. So it's indisputable that extreme rainfall is happening more than the old models predicted.
This highlights the importance of
stormwater management
. Good stormwater management is a tricky subject for many communities: It requires a lot of spending on infrastructure as an insurance policy against a low-frequency but high-impact event. (Big flash floods don't happen often, but when they do, they often affect lots of people and do lots of damage.) That can make it difficult for elected officials to risk their political futures by asking taxpayers to invest in stormwater management, since they aren't likely to be hailed as heroes for having done the right thing -- if a stormwater control system works right, few people are going to acknowledge the foresight of the planners and officials who implemented the controls; they're only likely to punish those who appear to be at fault if something goes wrong. This is an important industry issue for the water/wastewater sector, and one with no obvious "magic bullet" solution.
Related items:
flood cleanup pumps
•
water-control gates
•
portable engine-driven pumps for bypass
Chlorine monitors without the reagents
May 22, 2012
One of the major hassles of monitoring chlorine in water systems is that it's a labor-intensive process if you have to use test strips, and it can require lots of expensive reagents if you use some of the better-known automatic monitors.
ATI makes a better, easier-to-use type of chlorine monitor -- good for free chlorine and for combined chlorine (chloramines) -- that requires no reagents. It monitors continuously and has 4-20 mA outputs for relaying the information to any kind of standard control system you use. It's simple and compact, as you can see from this recent installation: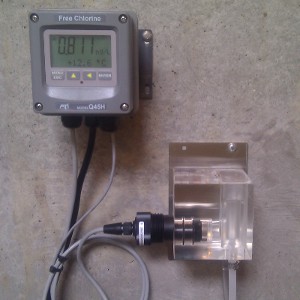 Please feel free to
contact us
with your questions or
request more information
.
USDA will take some extra acres for conservation this year
May 29, 2012
The USDA is planning to accept about
100,000 acres of Iowa farmland
into the Conservation Reserve Program this year, marking an increase of about 13,000 acres over the number whose leases with CRP will expire this year. The program is used for a number of purposes, though it's largely intended to
help prevent environmental damage
by providing a buffer between waterways and soil that's been treated with chemicals, fertilizers, and manure. Doing that helps reduce the volume of nutrients that enter the nation's waters, which contribute to a number of problems -- including nitrates in drinking water and algae blooms in lakes. The
dead zone in the Gulf of Mexico
is also
blamed
on the nutrients in fertilizers and manure. Because the CRP leases last for 10 to 15 years, they represent a big investment for farmers, who exchange the certainty of their CRP payments for the uncertain amounts they can make from raising crops or grazing livestock.
FYI: The "dead zone" is caused by
hypoxia
, which is the lack of dissolved oxygen in the water. Many municipal wastewater treatment plants have to
measure for dissolved oxygen
in their treatment processes to help ensure that they don't discharge "dead" water into receiving rivers and streams.
Past water and wastewater news updates