Looking at the long term: Will Iowa ever have water shortages?
February 2, 2012
The Cedar Rapids Gazette carries an interesting story today about
how population growth in a handful of Eastern Iowa cities
could put a lot of local pressure on municipal water supplies -- the kind of pressure that the state, as a whole, generally doesn't face. It's one of the major consequences of the shift in Iowa's population, in which the people are ever more heavily concentrated in a small number of urban centers. The state as a whole has abundant water supplies -- but that doesn't mean particular local areas won't face their own shortages.
Fire at Cedar Rapids wastewater plant
February 3, 2012
A fire at the sludge incinerator building at the Cedar Rapids wastewater plant
took about two hours to extinguish
this morning. Nobody was hurt, but there may be some damage to the equipment inside the building.
Glass-faced pump demonstrations available
February 7, 2012
Chris Suomi from Gorman-Rupp helped us with demonstrations of the glass-faced pump at last month's Snowball Operators Conference in Kearney. We appreciate his time and invite anyone with pump education questions to
contact us
anytime. We're always happy to help.
Congratulations to Gorman-Rupp for a record 2011
February 8, 2012
Our congratulations to the Gorman-Rupp Company for a
record-breaking 2011
. The company had record-setting sales, earnings, and orders last year and is already off to an exceptionally strong 2012. We have represented Gorman-Rupp since 1984, and we are proud to have sold hundreds of pumps from across the Gorman-Rupp family, including AMT, Patterson, IPT, and Gorman-Rupp's Mansfield division, in 2011. The entire GR family of companies is proof positive that American manufacturing is anything but dead -- for innovative companies with products that set world-class standards for quality, it's stronger than ever.
Problem solved: Fitting a progressive-cavity pump into a tight space
February 9, 2012
Please feel free to
contact us
with your questions and we'll be happy to help.
An alternative plan for the Keystone XL pipeline
February 10, 2012
TransCanada, the company behind the
proposed Keystone XL pipeline
from the oil sands of Canada down to the Gulf of Mexico, reportedly has an
alternative route well under design
that would go around Nebraska's Sand Hills in an effort to offset concerns about the potential impact of an above-ground oil spill on the massive
Ogallala Aquifer
below. The plans, according to the Omaha World-Herald, are being run up the flagpole with Nebraska state officials before further formal proposals are released.
When a rush delivery is required, Golden Harvest delivers gates
February 15, 2012
The floods of 2011 did massive damage to the levees up and down the Missouri River valley last year. The US Army Corps of Engineers has been designing repair projects and issuing contracts for fast-track completion of repairs before the spring flood season arrives in mid-March. Many of these projects have required new slide gates, sluice gates, and flap gates to replace old ones that were damaged last summer. Golden Harvest, the
gate manufacturer
from Washington state whom we have represented since 2004, has repeatedly delivered the near-impossible, with rush turnaround times on gates for these projects that beat out the abilities of any other manufacturer in the world. Consider the gate thimbles shown above. The project followed a remarkable emergency timeline:
Final quotation issued:
January 6, 2012
Order received:
January 6, 2012
Submittal drawings issued:
January 9, 2012
Submittal calculations issued:
January 10, 2012
Release to production:
January 12, 2012
Thimbles shipped:
January 25, 2012
The completed gates are scheduled for shipment in the next three or four business days --
less than 6 weeks after submittal approval
. When you need a rush delivery on stormwater gates or flood-control gates, Golden Harvest has the fastest turn-around in the industry.
Contact us
and we'll help you get the gates you need on the deadline you need to meet.
X-ray vision for pump users
February 16, 2012
We often tell people that having a good set of suction and discharge gauges for a pump is the best way to "see inside" the system and to diagnose what's happening if anything is going wrong. That's because it's impossible to literally see inside a working pump -- unless you happen to be in a pump school with a Gorman-Rupp glass-faced pump.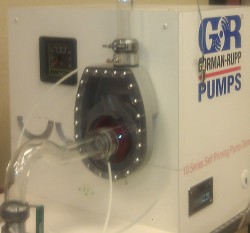 The glass-faced pump is an educational tool without equal. With it, we can demonstrate a range of important principles in pump operation, maintenance, and troubleshooting -- including NPSH, air entrainment, self-priming action, cavitation, air binding, entrance velocity, and diagnosis using gauges. Gorman-Rupp pump schools using the glass-faced pump are available throughout our territory (Iowa and Nebraska) and all over the United States. Operators and engineers alike can learn as much from an hour-long or two-hour pump demonstration than they'll learn from days in a lecture hall or poring over textbooks.
Invite us or your local Gorman-Rupp representatives
to teach a pump school for you.
Past water and wastewater news updates
last revised February 2012